Our Services
The Total Solution
The service package provided by JDLL Singapore Pte. Ltd. is meticulously crafted to offer extensive support to our clients across the entirety of their projects. Our goal is to reduce their risks, streamline tasks, and alleviate responsibilities, all the while optimizing safety, quality, and efficiency to the utmost degree achievable. Our top priority lies in the convenience and satisfaction of our valued customers.
Turnkey Project Services: Tailored Engineering Solutions
We specialize in delivering custom engineering designs and solutions for a diverse array of applications within the specialty gas and chemical-related industries on a global scale. Our expertise spans from the initial design phase, encompassing manufacturing and assembly, to seamless installation, commissioning, and comprehensive operational support, including efficient spare parts management. Regardless of the project stage, we stand ready to provide unwavering support.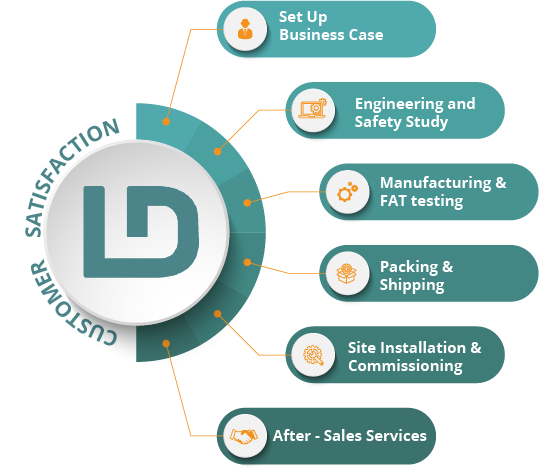 Consultancy and
Technical Study
Driven by a core team with extensive expertise in the process and chemical industry, our reputation resonates among the world's premier gas companies and international gas associations. Our competence is attested by the multitude of units successfully commissioned globally, operating safely to this very day. Among the services we excel in are:


    -  Capacity Enhancement
    -  Advancements in Process and Safety
    -  Modernization of Control Systems
    -  Optimization of Plant Equipment
    -  Seamless Plant Relocation
    -  Skillful Engineering Management of Change
    -  Expert Plant Maintenance
These offerings epitomize our commitment to excellence in consultancy and technical insight.
Engineering Services
With over two decades of experience in engineering and supplying medical, industrial, and specialty gas equipment, our proficiency is unparalleled. We have honed our specialization in Nitrous Oxide, Ammonia, Hydrogen, Helium, Fluorine, and Carbon Dioxide.
The equipment we engineer stands as a testament to reliability in the market, capable of producing the utmost quality gas. Simultaneously, our designs prioritize minimal loss of raw materials, emissions, and consumption to an exceptional degree
Equipment and Parts Procurement
Leveraging an expansive global network of relationships with diverse brands and suppliers, we offer a comprehensive array of dependable and economically efficient solutions for individual equipment and parts sourcing. Our offerings encompass:
    -  Compressors
    -  Cryogenic Pumps
    -  Liquefiers
    -  Purifiers
    -  Weighing Scales
    -  Water Treatment Equipment
    -  Storage & Vaporizers
    -  Valves and Instruments
    -  Spare Parts
    -  Specialized Fittings and Components
Our commitment is to provide you with optimal sourcing options that meet your needs.