Our Services
The Comprehensive Package
that JDLL Singapore Pte. Ltd. offers is designed with the aim of fully supporting the customers through the entire project by minimising their risks, tasks and responsibilities while maximising safety, quality and efficiency to the greatest extent possible. The convenience of our customers and their satisfaction are the most important for us.
Turnkey Project Services
Customized engineering design and solution for various applications in specialty gas and chemical related industry worldwide from design, throughout manufacturing and assembly up to installation, commissioning and operational support including spare parts management. We can support you through any stage of your project.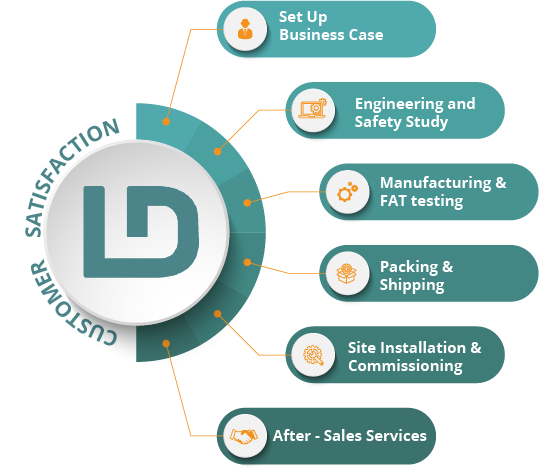 Consultancy and
Technical Study
Our core team has very strong background in process and chemical industry and are well recognized by the world leading gas companies and international gas associations. Our competence is proven by the large number of units commissioned all over the world and being safely operated to this day. Some of the services that we are familiar with:

- Capacity Increase
- Process and Safety Improvements
- Control System Upgrade
- Plant Equipment Optimization
- Plant Relocation
- Engineering Management of Change
- Plant Maintenance
Engineering Services
More than 20 years of experiences in engineering and supply of medical, industrial and special gas equipment. We specialize in Nitrous Oxide, Ammonia, Hydrogen, Helium, Fluorine and Carbon Dioxide.

The equipment engineered by us are the most reliable on the market and able to produce the highest quality gas, while minimizing the loss of raw material, emissions and consumptions to the greatest extent possible.
Supplying of Equipment
and Parts
Based on an extremely wide network of international relations with various brands and suppliers we are able to provide you with the most reliable and cost effective solutions for the sourcing of individual equipment and parts:

- Compressor
- Cryogenic Pump
- Liquefier
- Purifiers
- Weighing Scales
- Water Treatment Equipment
- Storage & Vaporizer
- Valves and Instruments
- Spare Parts
- Special Fittings and Parts